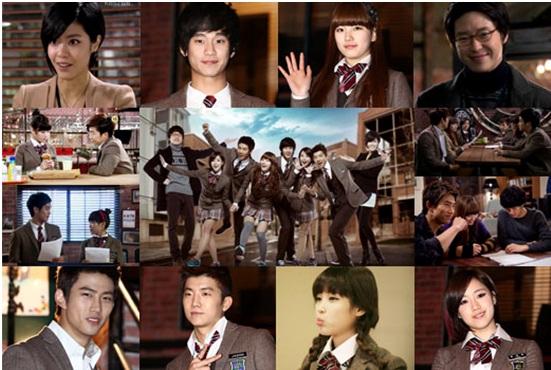 Most of us have dreamed of, or still daydream about, becoming a super star every once in a while even if we acknowledge there's no possibility of living a celebrity life. Here is a group of youths who are up and hopeful for a tough challenge to reach their goals to be pop stars although they all have their own weaknesses whether they are the looks, musical talent, bad fashion sense or family backgrounds and circumstances.
Dream High is the story of six students at Kirin Art High School who work hard to achieve their dreams of becoming super stars. The students maximize their unique talents and mature as they face numerous incidents and struggles. As much as it's intriguing and inspiring to see these six kids fall, trip and get up to move forward, the show is more fun because of the professional singing, dancing and acting done by actual K-pop idol stars who act as the students of Kirin Art School.
The series of 16 episodes aired from January 3 through February 28, 2011 on KBS2 and gained a great deal of popularity and attention because of the production team, cast and cameos.
The series was co-produced by Bae Yong-Jun's (Winter Sonata, KBS2, 2002) KeyEast, Park Jin-Yeong's JYP Entertainment and CJ Media. Bae Yong-Jun acted as the founder and director of the school and Park Jin-Yeong as the English teacher who had wished to become a singer himself.
Due to the following elements, the series grabbed many eyes of teenagers and youngsters, and season 2 of the series is scheduled to be in production and broadcast this coming winter: The cast of K-pop idol stars, Kirin students' endless efforts and energy to overcome rough challenges, realistic practice and training scenes,and the characters' comical acting.
Cast members that are actual pop stars include TaecYeon & Wooyoung from "2PM", Bae Suji from "Miss A", Eun Jung from "T-ARA" and IU who is a female solo singer.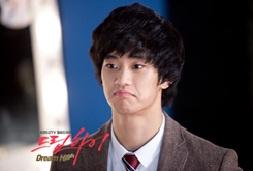 Song Sam-Dong (Kim Soo-Hyun) lives in the country side and dreams of becoming an owner of a stock farm. He's mesmerized instantly by Ko Hye-Mi and falls in love with her at first sight and follows her to Kirin Art High School. There, he discovers his professional and genius musical talent
.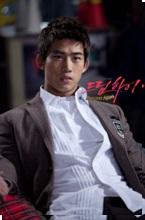 Jin-Guk (TaecYeon, 2PM) is always humorous and has a sunny disposition, but he carries a deep wound in his heart yet to be healed and is a troubled student at school. He's had to face total neglect from his own family due to his complex family history.
The director of Kirin Art High School recommends to Jin-Guk to enroll at his school. There, his talents blossom and he begins to dream of becoming a global star.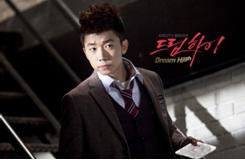 Jason (Wooyoung, 2PM), who comes from abroad and enters Kirin after receiving the top score, is a genius with impeccable talents in singing and dancing, but he's not interested in competing with others.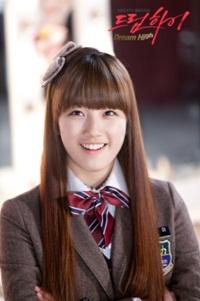 Ko Hye-Mi (Bae Suji, Miss A) is the most popular girl at Kirin.
She's always been the best since she was a kid whether it was studying, singing or playing the piano. She's full of self but rather lacks humility. As her father's business goes bankrupt, she decides to audition for Kirin to become a pop singer despite her former disdain for the profession; she's been hoping to become a world-renowned classical vocalist.
She is loved by Sam-Dong and Jin-Guk.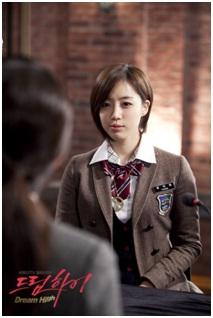 Yoon Baek-Hee (Eun-Jung, T-ARA) was Hye-Mi's best friend and sidekick.
She's been living a life recognized or noticed by no one and looks up to Hye-Mi, who appears to have everything.
She gets to audition for Kirin Art School where she finds her talents and goal. Baek-Hee and Hye-Mi soon become rivals.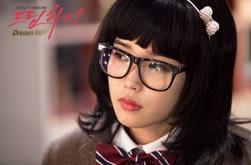 Kim Pil-Suk (IU), looks like a funny character in comics because of her appearance and personality and yet has sensibilities and genies-like musical talents. She falls in love with Jason whom she met at Kirin Art School and starts her "one-way love" toward him.